In recent newsletters we have highlighted a series of commitments that set the standard for how we work on your behalf: The Corvias Commitment.
One of these commitments is that We Give Back. Our role is to ensure a supportive, vibrant community for the residents who choose us. That means contributing to the community – from reinvesting back into community services and infrastructure to Corvias Foundation scholarships and grants that provide financial assistance to children and spouses of active-duty service members.
This commitment, along with the other commitments, is how we grade ourselves – an integral part of who we are as an organization. Your satisfaction is important to us. We know you have choices and we work hard to earn your trust, each and every day.
OPERATIONS DIRECTOR UPDATE
We have some great news to share - Last Friday we received approval from the Army to execute a $15M development plan. This phase includes exterior renovations for over 1,100 homes and approximately 3 miles of road repairs. This plan, which was developed with the support of Fort Polk leadership, will see Corvias inject significant funds into improve housing and further raise the quality of life for our military families living on post. We anticipate beginning these improvements in the next few weeks, and will be distributing more information on which streets are impacted.
This phase of improvements is just one that is in the pipeline for Fort Polk. We have a much larger project, currently in review, which will bring further build upon the development about to begin. These development plans are part of our commitment to continually reinvest in housing and therefore your quality of life.
The 2019 Fall Army Survey is also starting in November (more detailed information is provided below). Throughout this year we have been soliciting feedback from residents, listening to your concerns and working on revising our processes to deliver a higher level of satisfaction. We hope that you have experienced some of the positive improvements that have already been implemented; many of these changes were developed utilizing feedback obtained through the Spring Army Survey. We acknowledge that there is still progress to be made, and we hope you will take a couple minutes to complete this important survey and provide feedback that will help shape our future services to align with your needs.
As always we appreciate your residency,
Matthew McGee
Operations Director
As we are moving into the holiday season we love seeing all the fun and creative ways you chose to decorate your homes for the holidays. Here is a friendly reminder from your Resident Responsibility Guide (RRG) to help keep your family safe while decorating your homes. As always don't hesitate to reach out to your Community office if you have any questions.
Residents can decorate their yards and homes for holidays throughout the year. These decorations should not be offensive or distasteful. Decorations will not be put out more than 30 days prior to the holiday that they are intended and should be removed and stored as soon as possible after the holiday has passed or not longer than two weeks after the holiday.
No decorations of any kind will be placed on the roofs of homes, as this can be a significant safety hazard as well as damaging the roof which can result in a roof leak and damage to the structure of the home as well as personal effects of the residents in that home.
Any holiday lighting that is put out for display must be Underwriters Laboratories, Inc. (UL) approved for outdoor use. All holiday lighting will be turned off if the residents are not home or are asleep.
To hold outdoor lights in place, string them through plastic holders. Never use nails, screws, hooks, staples or tacks.
All Christmas tree ornaments and decorations must be noncombustible. Lighting and lighting sets for use with Christmas decoration will bear the label of Underwriters Laboratories, Inc. (UL) and will be in good condition.
2019 FALL RESIDENT SATISFACTION SURVEY
Beginning Tuesday, November 12th, through the 2019 Fall resident satisfaction survey administered by CEL & Associates, Inc. (a third-party company), you will have the opportunity to let us know how we can be better. We ask that you take a few moments of your time to complete this short, anonymous online survey.
Your experience living in our communities is all that matters and your voice counts.
A link to the online survey will be sent from ARMYHousingSurvey@celassociates.com to the primary email address listed in your resident file. The subject line of the email will read: Fall 2019 Official Army HQDA RCI Sponsored Resident Housing Survey. Please make sure to add this email address to your "allowed sender list" to avoid the message going to your spam/junk folder.
Also, please note this survey is different from the work order and move-in survey you may have received throughout the year.
Thank you in advance for your participation!
EVENT RECAP: WILLY WONKA CANDY BAR
On October 9th, residents were able to experience some scrumdidlyumptious Willy Wonka treats at Maple Terrace! Delicious candies such as giant lollipops, zotz, pixie sticks and so much more were available to all who came! It was a great time had by all. In the words of Willy Wonka himself, "A little nonsense now and then is relished by the wisest men". Keep checking back with your Community Office as more events are coming your way!
As we all start to prepare amazing meals for the holidays, it is important to remember that grease, fat, and oil should not be poured down the drain. During colder months, grease will solidify faster and cause pipes to clog, leading to costly repairs. A safe alternative is to let the grease cool and solidify in the cooking pan, or pour it into a disposable container. Once it solidifies, it can be reused for cooking or disposed of in the trash.
Each November the Military community observes Military Family Month. Every day, our team recognizes the daily sacrifices made by Military families, and we are honored to provide housing services to those families.
We are far from alone in appreciating everything that Military families sacrifice. Many local services are provided to show their appreciation this month. Just take a look at what Exchange Reel Time Theater is doing: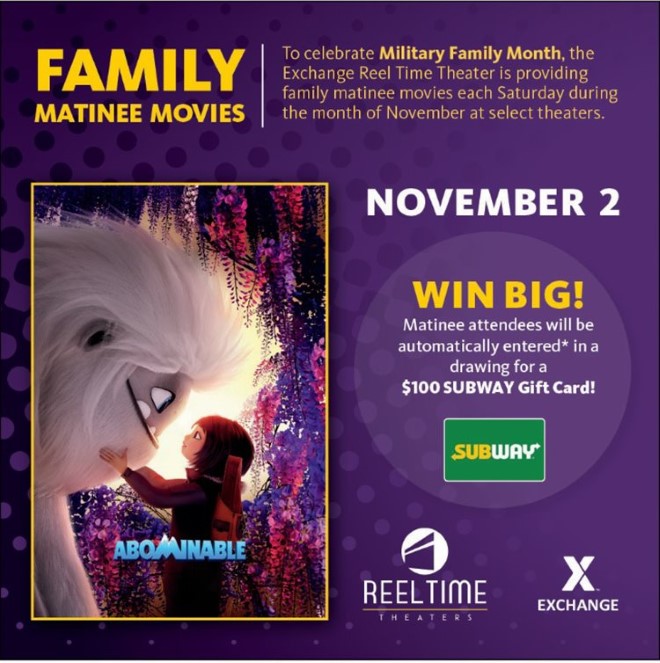 November 8 - Popcorn Friday - S'mores Flavor - All Community Centers
November 11 - Veterans' Day - Corvias Office's Closed*
November 12 - 2019 Fall Resident Satisfaction Survey Opens
November 15 - Last day for food drive - All Community Centers
November 22 - Coch on De Lait (pig roast) - 4:30 pm - 7:00 pm - Palmetto Clubhouse
November 28-29 - Thanksgiving Holiday - Corvias Office's Closed*
*Call 866-436-2047 for emergency service requests
Please stay tuned to our Facebook page for more events to come. You can also go by or call your local community center to find out more information and details regarding fun events happening in your community.
Dogwood Terrace

300 Warren Court

Fort Polk, LA 71459

(337) 537-5055

Maple Terrace

100 Pendleton Drive

Fort Polk, LA 71459

(337) 537-5065

Palmetto Terrace

200 BellRichard Avenue

Fort Polk, LA 71459

(337) 537-5040