In previous newsletters we have highlighted the series of commitments that set the standard for how we work on your behalf. These commitments are at the heart of our constant drive to satisfy residents.
One of these commitments is that we keep working until you're satisfied! We continually strive to impress our customers with the quality and timeliness of our services in a pleasant and friendly manner. Whether you just moved in or have a service need, we won't consider the job done until you sign off.
If you feel that your expectations have not been met, you have the right to contact our Community Managers, Operations Directors, Residential Communities Initiative (RCI) office, Housing Management Office (HMO) or corporate office.
Your satisfaction is important to us. It's how we grade ourselves — an integral part of who we are as an organization. We know you have choices and we work hard to earn your trust, each and every day.
OPERATIONS DIRECTOR UPDATE
September was a busy month for the Corvias team. We encountered a huge challenge when a tree fell across power lines on a Saturday evening and caused a major power surge through the electrical grid in Maple Terrace. This resulted in almost 250 homes losing power and the HVACs going out on 154 occupied homes. The scale of this event required replacement parts far in excess of what we had available, and required the maintenance team to pull together, shift resources towards triage by installing window units while we sourced the parts. Throughout Sunday we had 20 team members, who were all unscheduled to work, in Maple Terrace to assist. We ended up sending a Corvias employee to Oklahoma City in a Uhaul to retrieve the parts so we could begin repairs 24 hours earlier than if they were shipped. We started repairs on Thursday morning at 8:00am, and we completed all of the occupied homes by 6:00pm that evening.
This was not an ideal situation for any family to go without central AC when the temperatures outside were in the 90's, but we appreciate that residents were understanding. Army leadership held a town hall to afford residents in Maple Terrace the ability to voice concerns and frustrations, but there were no attendees. BG Patrick Frank utilized this gathering of Army and Corvias leadership to hold a review of housing's response to this mini-crisis, and read the Guardian article covering this event here. Our goal through this event was to keep you informed of our progress and ensure no one was left in the dark; we appreciate the level of trust you all had in our team and we are glad we were able to deliver the repairs as communicated. Over the last year we have fielded a lot of constructive feedback, and I hope we can continue building this trust as we focus on improving your quality of life in housing.
We have some exciting projects upcoming; we are close to receiving approval to begin road repairs for over 3 miles of roadways throughout the housing areas. We plan to start the beginning of November; prior to beginning we will be sending out maps with anticipated timelines for closures so you all are prepared. We will also be completing the exterior renovations for 1,500 homes. This project will run through 2021, and will just be a portion of the improvements housing will see over the coming years. We hope in the next couple months to be able to share the specifics of the next phase of redevelopment/construction.
This month we will begin preventative maintenance visits to inspect homes for maintenance deficiencies and make proactive repairs that will reduce future inconveniences for you. These visits are separate from any Army inspections and are only focused on maintenance repairs. Note that we are not looking to assess any damages, just maintain quality housing for families. We will be in contact to schedule these appointments for homes.
As always we appreciate your residency,
Matthew McGee
Operations Director
EVENT RECAP: OUT OF THIS WORLD!!
On Friday, September 20th all of the Community Centers hosted an Out of This World Event. We invited all of our families to head over to their Community Center and join in on the extraterrestrial fun. We served up some delicious Alien snacks which included cupcakes, gummy candy and green punch. Alien slime, Alien eye sunglasses and headbands were handed out. Earthlings could enjoy pictures in our photo booth with our Alien that came to visit from Area 51 or paint their very own Moon Rock to take home. All who participated had an out of this world time! Be sure to follow our Facebook page, Residents at Fort Polk, to stay up to date with all of our upcoming events.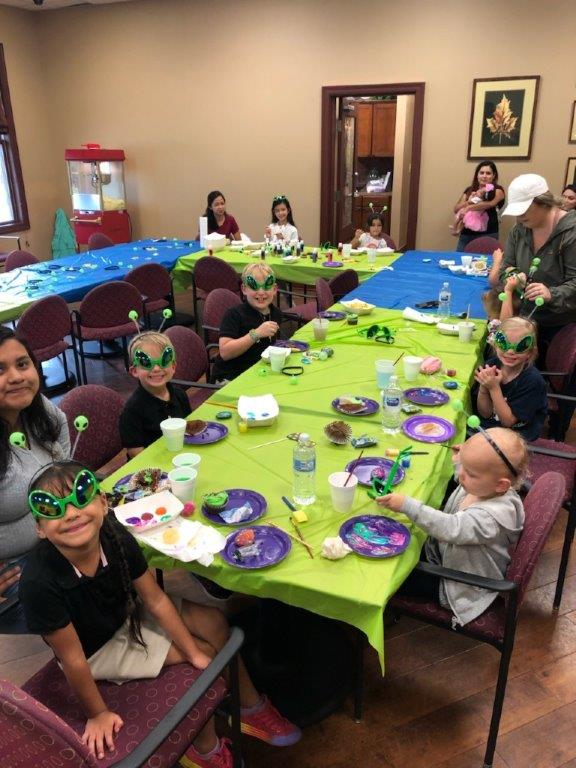 Your feedback is important! It's how we know when we're doing well and when we fall short of our commitment to you. There are two opportunities for you to provide your honest and anonymous opinions regarding the requested maintenance work done in your home. The first is immediately after your work order is complete. This survey will be sent via email by Entrata, the third party company used for your work order app and resident portal. The second survey will also be sent via e-mail from SatisFacts. This survey will arrive in your inbox within 7 days of when your work order is complete. We want you to have every chance to let us know how we did!
HALLOWEEN SAFETY TIPS
How do you repair a broken jack o'lantern? Use a Pumpkin Patch!
Jokes aside, Halloween is a real treat for people of all ages. But how do you ensure that you enjoy the spooky festivities safely? Well, we can assure you that these tips are no trick.
Avoid dark clothes or costumes. This sometimes is hard when a costume is already very dark. To increase visibility, without impacting the integrity of the costume, consider adding reflective tape to a bag, basket or accessory.
Check your goodies. While this relates primarily to trick or treating, this is a good rule to practice even as an adult without kids. Its always important to make sure that candy hasn't been opened or otherwise contaminated before consuming. Remember, not all treats are candy. Knowing this it is equally important to check for quality and safety of the product, regardless if it is a consumable or not.
Be careful driving. Not only are there a lot of kids out on Halloween, but the surrounding weekends are often filled with parties, parades, and other festivities. It is important to: pay full attention to the road, stay off your phone, stay off the road if you are overly tired or otherwise impaired, and slow down when going through neighborhoods or crowded areas.
Lastly, have a plan. While kids should follow the rules their parents have set in place to ensure their safety, adults should also plan out their festivities ahead of time to ensure their safety and a great night of fun.
On September 6th, we invited residents and their little ones to beautify our Neighborhood Centers and enjoy refreshments. Our sidewalks were decorated with amazing chalk art. We were all excited to learn that we have many talented residents! This will definitely not be the last time we invite everyone to "Chalk it Out" with us!
October 9 - Willy Wonka Bar at Maple Terrace
October 15 - Food Drive Begins! All Community Centers are participating.
October 25 - Costume Contest at Maple Terrace
October 31 - Trick or Treat at All Community Centers from 4:00 - 5:00 pm
Other events to come in October include a fall fest, coffee with a cop & a wreath making class. Please stay tuned to our Facebook page for more events to come. You can also go by or call your local community center to find out more information and details regarding fun events happening in your community.
Dogwood Terrace

300 Warren Court

Fort Polk, LA 71459

(337) 537-5055

Maple Terrace

100 Pendleton Drive

Fort Polk, LA 71459

(337) 537-5065

Palmetto Terrace

200 BellRichard Avenue

Fort Polk, LA 71459

(337) 537-5040