HAVE YOU THANKED A MILITARY SPOUSE?
Thirty years ago, President Ronald Reagan recognized the importance of military spouse contributions to the morale and readiness of our nation's service members. In 1999, Congress designated the first Friday before Mother's Day as National Military Spouse Appreciation Day. This year on Friday May 8, we continue to recognize and show appreciation to the silent force, behind the force, for their steadfast support and sacrifice.
As a nation, we salute spouses for their commitment, dedication and patriotism. Military spouses wear many hats while juggling family separations, employment uncertainties and frequent relocations. Yet, they still find time and strength to volunteer in our communities and manage the home front.
Corvias salutes our military spouses for your service and commitment! Thank you for the many selfless contributions and sacrifices in supporting our service members.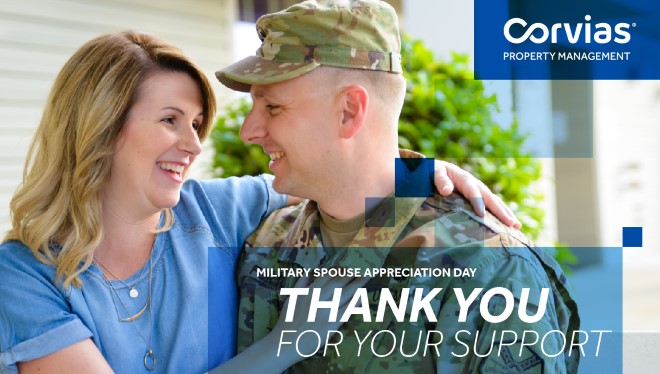 Don't wait until you see the tornado to act! If you do nothing else:
Listen to local area radio, NOAA radio or TV stations for the latest information and updates.
If in the warning area, seek shelter immediately. Stay away from windows and exterior doors. Interior hallways on the lower floors and small interior rooms on the lower floors offer the best shelter.
Do not open windows; this can increase damage to the building
Memorial Day is Monday, 25 May, where everyone is asked to participate in a "National Moment of Remembrance" at 3:00 p.m., to pause in remembrance for the men and women who died while serving in the United States Armed Forces. Corvias Property Management would like to extend our gratitude to all service members and their families who have made the ultimate sacrifice.
HOME EFFICIENCY TIPS
Home efficiency not only helps the environment, but can save you time and energy. Here are the basics in ensuring your home is as efficient as possible.
If able, direct your vents' air flow across the floor to allow warm air to rise. This is the natural flow of air, allowing your air or heating units not to overwork.
When running your dishwasher, or laundry, ensure you are running a full load. This will maximize your water consumption efficiency, as well as reducing the amount of times you have to do the dishes.
When running your laundry, use cold water. It cleans just the same, and is often better for the machine. Additionally, clean your lint trap after every use of your dryer. This will prevent fires, and improve your dryers' efficiency.
If you don't use a specific part of your house very often, ensure the doors and vents are closed. When you do use that area, be sure to turn off the lights when you are done, as it's natural to forget.
Maximize natural light by opening up drapery or blinds on sunny days, and closing them at night to keep cold air out.
Any non-stationary light fixtures, like floor lamps and desk lamps, should be using LED bulbs. They last an average of 15 times longer than incandescent, so it's worth the upfront cost.
Don't forget! Applications for the Corvias Foundation $5,000 Scholarships for spouses of active-duty service members are due Friday, May 8. There is still time to apply at corviasfoundation.org/apply-now.
All scheduled in person community events hosted by Corvias are temporarily suspended.
Join us on our Facebook page for some fun contests!
Visit our Ready, Set, Gold! website for wellness, education, and entertainment resources & activities.
Dogwood Terrace

300 Warren Court

Fort Polk, LA 71459

(337) 537-5055

Maple Terrace

100 Pendleton Drive

Fort Polk, LA 71459

(337) 537-5065

Palmetto Terrace

200 BellRichard Avenue

Fort Polk, LA 71459

(337) 537-5040