Stormwater runoff is rainwater that does not seep into the ground after rainfall. Impervious surfaces like rooftops, driveways, sidewalks and parking lots prevent stormwater from naturally soaking into the ground. As the water runs off the paved surfaces, it collects pollutants such as oil, gasoline, fertilizers, pet waste and pesticides which them flow into our stormwater systems. The stormwater system is not filtered, so the stormwater and pollutants are then directly discharged, untreated, into the waterways that we love to use for swimming and fishing.
Here's a few things you can do to prevent this from happening:
Keep dumpster lids closed and areas surrounding the dumpsters free of trash and debris
Keep grass clippings out of the street
Dispose of paint and other household waste properly
Wash vehicles at a commercial wash area
Store stockpiled materials under a garage or covered with a tarp to prevent contact with rain
Maintain equipment and vehicles and regularly check for leaks
Pick up pet wastes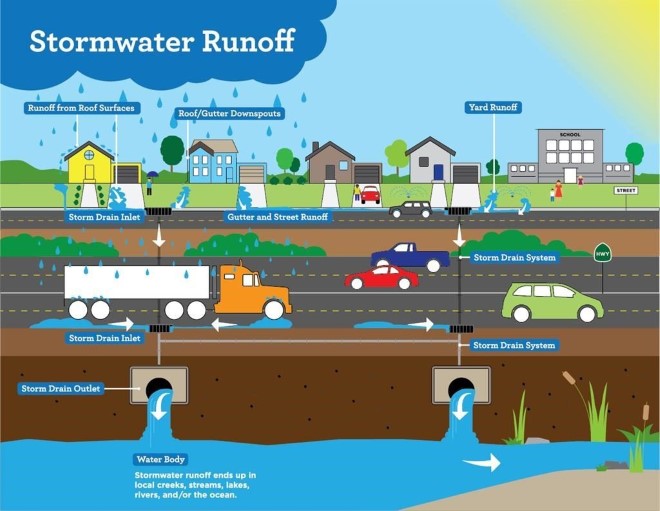 Corvias Property Management is continuing the necessary and important focus on slowly phasing back to work while adhering to the CDC guidelines for COVID-19. We are taking our time to carefully return to the offices while following the recommendations issued by the federal, state and local authorities. This means you might start to see our team members around in your community.
Resident should be advised:
Our top priority will be to address the back log of work orders. Our team is working diligently to complete work orders while abiding by current protocols, including wearing PPE and conducting a health survey before entering occupied homes.
If you have a work order currently in the system, a Corvias team member will call you as soon as possible with the next steps.
As a reminder:
Corvias amenities will remain closed but we continue to monitor the situation and will keep residents posted on the latest news and developments.
Residents may keep small, well-maintained inflatable/wading pools in their yard under certain conditions. These pools must be less than 12 inches deep and no more than 10 feet wide. They must be in the backyard, on grass and emptied every night. Adult supervision is required at all times and residents are liable for activities and any damage. Disregard for these rules is a violation of your lease terms.
If your family has a Permanent Change of Station planned for the upcoming months, our team is here to support you with the flexibility you need.
Corvias Property Management is adapting to the new "normal" and is committed to providing our residents with the best service possible during these difficult times. Any questions or concerns can be shared with one of our team members at your local community office.
Dogwood Terrace – (337) 537-5055
Maple Terrace – (337) 537-5065
Palmetto Terrace – (337) 537-5040
Check out our webpage for important and useful information. You will find our monthly newsletters, calendar of mow and trash days for each community and the resident responsibility guide to name a few. You can also submit a work order from our website.
We can experience extreme heat during the summer months. Extreme heat is defined as a prolonged period (2-3 days) of high heat and humidity with temperatures above 90 degrees. In extreme heat, your body works harder to maintain its normal temperature. Remember, older adults, children, and the sick are at greater risk from extreme heat.
Extreme heat can occur quickly and without warning. If you are in an extreme heat warning be sure to find air conditioning quickly, wear light clothing, drink plenty of fluids, and watch for heat cramp, heat exhaustion, and heat stroke.
Check out these additional tips on preparing for extreme heat.
Father's Day is Sunday, June 21st.




Here are fun family ideas to help celebrate.
During these challenging times, we want to thank you for your patience and support as we continue to follow CDC and OSHA guidelines. In coordination with local command, we kindly ask that you please participate in this anonymous survey that will take less than 10 minutes.
The results of this survey will help us understand your housing experience during the pandemic, as well as help determine how and when to return to in-person and group experiences. We know that your time is valuable, so as a small gesture of our appreciation, we will randomly select a number of survey participants to receive an electronic gift card valued at $25. Thank you for participating.
All scheduled in person community events hosted by Corvias are temporarily suspended.
Dogwood Terrace

300 Warren Court

Fort Polk, LA 71459

(337) 537-5055

Maple Terrace

100 Pendleton Drive

Fort Polk, LA 71459

(337) 537-5065

Palmetto Terrace

200 BellRichard Avenue

Fort Polk, LA 71459

(337) 537-5040